BUILDING AN ETHICAL AND SUSTAINABLE INFORMATION FUTURE WITH EMERGING TECHNOLOGIES
This meeting will focus the creative and analytical energies of the ASIS&T community on the dramatic near horizon socio-technical shifts expected due to rapid developments in technologies such as artificial intelligence, big data analytics, virtual and augmented reality, and embedded, ubiquitous computing. The opportunities afforded by these technologies are enormous, as are the challenges of ensuring that ethical and human-centered perspectives, including sustainability, privacy, human agency and equity, are incorporated into their design and use.  As interdisciplinary information science and technology researchers and practitioners, with an 80 year tradition of studying and working in this rapidly evolving field, we are uniquely situated to steward and mediate this shift. 
Lire la suite : The 81st Annual Meeting of the Association for Information Science and Technology November 9-14,...
META'2018
The 7th International Conference on Metaheuristics and Nature Inspired Computing META'18 will held at Marrakech in Morocco on the Oct 27-31 2018. All selected papers will be published in the conference proceedings. Following the tradition, selected long papers will be published in a postponed Springer book as in META'2014 and META'2016.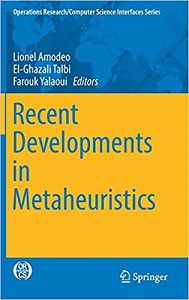 2nd EAI International Conference on Emerging Technologies for Developing Countries
May 29–30, 2018 |

Cotonou, Benin
Scope
The conference AFRICATEK 2018 targets the use of emerging technologies (e.g. cloud computing, IoT, data analytics, green computing, Smart grid etc.) in developing countries. Building innovative solutions and services based on cutting edge technologies is very challenging in developing countries for several reasons. The limited IT infrastructure and Internet penetration are two of the key hindering barriers.
Processus d'accréditation des OING/ONG auprès de la Francophonie...
Lire la suite
Application for AfPIF2018@iWeek fellowship is now open/ L'inscription au programme de bourses AfPIF2018@iWeek est ouverte...
Lire la suite