Cher(e)s Enseignants,

Dans le cadre de ses activités annuelles, la Cellule CAP-TICE (www.captice.univ- antananarivo.mg) organise pour le mercredi 24 Janvier et jeudi 25 Janvier 2018 deux séances de formation relatives à la mise en ligne des cours sur l'Université Virtuelle d'Ambohitsaina (UVA), plateforme MOODLE de l'Université d'Antananarivo
Thème : « QUE METTRE SUR L'UNIVERSITÉ VIRTUELLE ET COMMENT LE FAIRE »
Objectifs : après la formation, les Enseignants sont en mesure de :
-          Connaître les ressources à mettre en ligne sur l'UVA
-          maitriser l'insertion de cours et activités sur la plateforme MOODLE,
-          maitriser l'inscription des étudiants aux cours,
-          utiliser la dite plateforme par les Enseignants après la formation. 
Lieu : Salle de formation pour les Enseignants (sous-sol BAU) Ankatso
BUILDING AN ETHICAL AND SUSTAINABLE INFORMATION FUTURE WITH EMERGING TECHNOLOGIES
This meeting will focus the creative and analytical energies of the ASIS&T community on the dramatic near horizon socio-technical shifts expected due to rapid developments in technologies such as artificial intelligence, big data analytics, virtual and augmented reality, and embedded, ubiquitous computing. The opportunities afforded by these technologies are enormous, as are the challenges of ensuring that ethical and human-centered perspectives, including sustainability, privacy, human agency and equity, are incorporated into their design and use.  As interdisciplinary information science and technology researchers and practitioners, with an 80 year tradition of studying and working in this rapidly evolving field, we are uniquely situated to steward and mediate this shift. 
Lire la suite : The 81st Annual Meeting of the Association for Information Science and Technology November 9-14,...
META'2018
The 7th International Conference on Metaheuristics and Nature Inspired Computing META'18 will held at Marrakech in Morocco on the Oct 27-31 2018. All selected papers will be published in the conference proceedings. Following the tradition, selected long papers will be published in a postponed Springer book as in META'2014 and META'2016.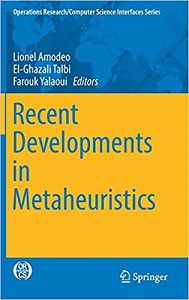 DEADLINE EXTENDED TO 28 OCTOBER - Call for Applications to Host International Data Week 2021 or 2023...
Lire la suite
LIRIMA : Lancement appel 2020 - programme Équipes Associées d'Inria...
Lire la suite