META'2018
The 7th International Conference on Metaheuristics and Nature Inspired Computing META'18 will held at Marrakech in Morocco on the Oct 27-31 2018. All selected papers will be published in the conference proceedings. Following the tradition, selected long papers will be published in a postponed Springer book as in META'2014 and META'2016.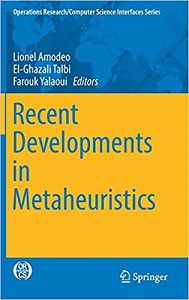 2nd EAI International Conference on Emerging Technologies for Developing Countries
May 29–30, 2018 |

Cotonou, Benin
Scope
The conference AFRICATEK 2018 targets the use of emerging technologies (e.g. cloud computing, IoT, data analytics, green computing, Smart grid etc.) in developing countries. Building innovative solutions and services based on cutting edge technologies is very challenging in developing countries for several reasons. The limited IT infrastructure and Internet penetration are two of the key hindering barriers.
CARI 2018 in STELLENBOSCH (SOUTH AFRICA)
CALL FOR PAPERS
With a modified schedule for paper submission
CARI (http://www.cari-info.org/), the African Conference on Research in Computer Science, is the outcome of an international cooperation involving African universities, French research institutes, and international organizations.Occurring once every two years since its first edition held in 1992 (Yaounde, Cameroon), CARI is more than a scientific gathering, but a dynamic environment for cooperation that brings together African researchers, and decision-makers in the fields of computer science and applied mathematics. The scientific program, which reflects the wealth and diversity of the research carried out on the African continent, places special emphasis on work that can contribute to technological development, environmental awareness and natural resource management.
Lire la suite : CARI 2018 : schedule for paper submission has change
Appel à Manifestation d'Intérêt pour les entrepreneurs œuvrant dans le secteur de l'Eau l'Assainissement et l'Hygiène...
Lire la suite